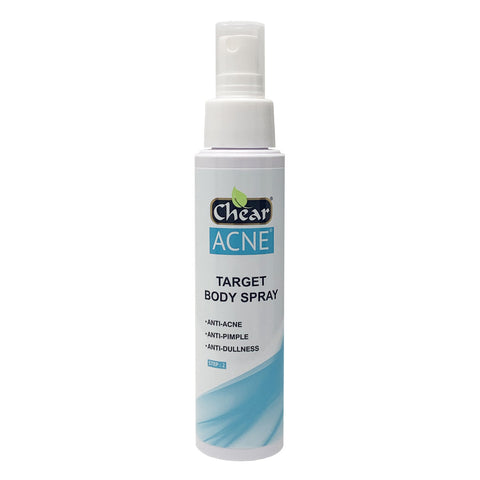 Chear Acne Target Body Spray
CHEAR ACNE BODY SPRAY is an effective after shower spray that delivers an acne fighting complex formula that penetrates deep into the pores where dirt, oil and grime can build up.
It targets acne on back, shoulders, chest, neck and hard to reach areas of the body, working effectively to penetrate deep into your skin to reduce acne, helps to prevent breakouts, and helping to soothe irritation & redness.

ANTI-ACNE




ANTI-PIMPLE




ANTI-DULLNESS
A post shower leave-on body spray is 'key' to helping you to keep your skin clean and fresh by helping to provide a barrier between your skin and dirt that can accumulate on your skin and in pores.

CHEAR ACNE BODY SPRAY contains specially selected ingredients such as Salicylic Acid, Niacinamide, Aloe Vera, Witch Hazel and Centella Asiatica extract to help provide the barrier from the environment and also to help unclog oily pores and clear away dead skin cells, grime and excessive oils.

Key Active Ingredients: Aloe Barbadensis Leaf Water, Niacinamide, Salicylic Acid, Centella Asiatica Extract, Hamamelis Virginiana (Witch Hazel) Extract.
100ml
Recommendation: You can follow with Chear Acne range of products to obtain the best anti-acne result.

Directions for use: Apply after showering daily, use Chear Acne Body Wash first than hold the body spray about a foot and a half away from your body and spray onto clean, dry skin. Let it absorb in for 30-60 seconds before getting dressed.

Store in a cool & dry place. 
Warnings:
Keep out of reach of children. If irritation occurs discontinue use and if you have an allergic reaction it is recommended that you seek medical advice, For external use only. Avoid contact with eyes and mouth. Wash your eyes with clean water thoroughly in case of eye contact.

Patch testing prior to use is advised.




Do not use if pregnant or breastfeeding.



---