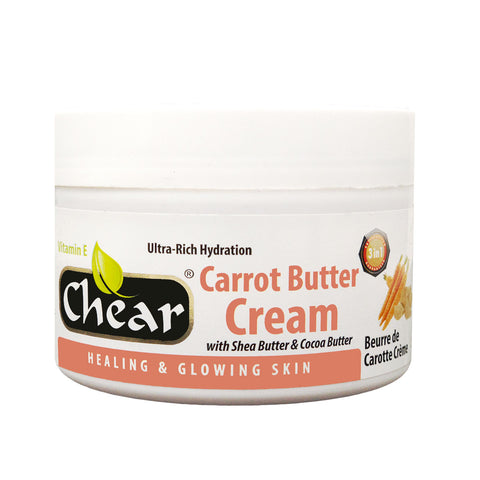 Chear Carrot Butter Cream with Shea Butter & Cocoa Butter For Hands & Skin
Chear Carrot Butter Cream contains a unique solid formula with Carrot butter, Shea butter and a blend of Cocoa butter.

Our Carrot butter is enriched with Vitamin E making it an excellent all over body moisturiser, and to soften, smooth and relieve rough dry skin.

Perfect for aiding and helping the healing process from minor external wounds and skin inflammation.


Our butter absorbs deeply and evenly to leave your skin soft and silky smooth, and is an excellent choice relieve rough dry skin, nourishing pores without clogging and improve texture of the skin.


Contains pure extracts of Carrot butter & Shea butter, Vitamin E, & Cocoa Butter 
Provides 24 hours moisture
Helps heal skin disorders

Smoothes scars & blemishes
Fast absorbing
Instant hydration & softness
Suitable for Eczema prone skins
Soothes skin after sun exposure
Paraben & Phthalate Free

500ml (℮)
Cosmetic Patch Test  :  It is advisable that a small patch test is conducted before the product is fully used to ensure the product is suitable for your skin. If skin is irritated or an allergic reaction has occurred immediately discontinue use, if necessary seek medical advice. Press link for our Allergy page 
---