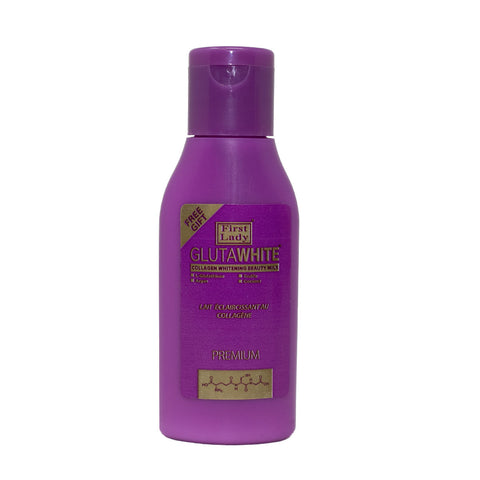 FREE SAMPLE - First Lady Glutawhite Collagen Skin Whitening Beauty Lotion with L-Glutathione 30ml
 Sample cosmetic products (limit 1 of the same item per customer) You will only be sent *Maximum of 4 different samples per order
First Lady Premium Glutawhite Collagen whitening beauty milk contains a variety of high quality luxurious ingredients such as:
L-Glutathione
Collagen, truffle
Argan
Coconut
All of which improves the skin complexion, rapidly whitens skin tone, luxuriously absorbs very well  resulting in a softer, smoother and healthier youthful glowing skin tone.
After many years of research and trials we have finally developed the most luxurious, most effective and efficient skin whitening beauty milk.
30ml
Note: First Lady skin lightening products like other lightening products in the market require regular and consistent use. Please take into consideration that each individual skin is different and results may vary from one person to another.

Note: Some individuals may experience the skin temporary darkening before it gets lighter. This is due to the active lightening agents interacting with the skin causing the pigments to rapidly pull toward the skin surface, making the cells ready to shred. You will need to stay consistent with the treatment for the area to lighten and clear up
WHEN USING THIS PRODUCT: AVOID UNNECESSARY SUN EXPOSURE AND USE A SUNSCREEN TO PREVENT DARKENING FROM REOCCURRING. TEST OVERNIGHT ON INSIDE OF ELBOW BEFORE USE. *YOU MAY INCUR A TINGLING SENSATION THIS IS DUE THE LIGHTENING INGREDIENTS ACTIVATING WITH THE SKIN. 
WARNING: IF IRRITATION OCCURS DISCONTINUE USE AND IF YOU HAVE AN ALLERGIC REACTION IT IS RECOMMENDED THAT YOU SEEK MEDICAL ADVICE. FOR EXTERNAL USE. AVOID CONTACT WITH EYES. DO NOT USE ON CHILDREN.
PREGNANCY/BREASTFEEDING: IF PREGNANT OR BREASTFEEDING, ASK A HEALTH PROFESSIONAL BEFORE USE.
This product is in compliance with EU & U.K regulations.   
---