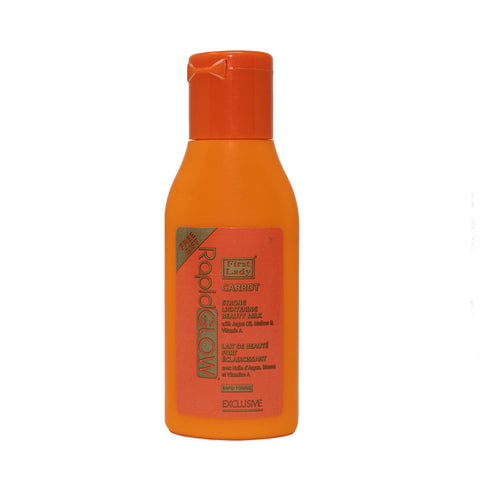 FREE SAMPLE - First Lady Rapid Glow Carrot Strong Lightening Beauty Milk Lotion 30ml
 Sample cosmetic products (limit 1 of the same item per customer) You will only be sent *Maximum of 4 different samples per order
 First Lady Rapid Glow Carrot Strong Lightening Beauty Milk Lotion with Argan, Mallow & Vitamin A is intensely concentrated, especially intended for hyper-pigmentation problems of black and mixed skin.

The natural active ingredients are carefully selected for its high efficiency and rapid lightening. Combining a complex of Carrot, Argan Oil, Mallow, Vitamin A and our exclusive concentrated whitening ingredient. It gives a rapid glow to the skin and limits the appearance of blemishes and helps to lighten dark areas.


30ml
WHEN USING THIS PRODUCT: AVOID UNNECESSARY SUN EXPOSURE AND USE A SUNSCREEN TO PREVENT DARKENING FROM REOCCURRING. TEST OVERNIGHT ON INSIDE OF ELBLOW BEFORE USE.
WARNING: IF IRRITATION OCCURS DISCONTINUE USE AND IF YOU HAVE AN ALLERGIC REACTION IT IS RECOMMENDED THAT YOU SEEK MEDICAL ADVICE. FOR EXTERNAL USE. AVOID CONTACT WITH EYES. DO NOT USE ON CHILDREN.
PREGNANCY/BREASTFEEDING: IF PREGNANT OR BREASTFEEDING, ASK A HEALTH PROFESSIONAL BEFORE USE.
This product is in compliance with EU & U.K regulations.   
---