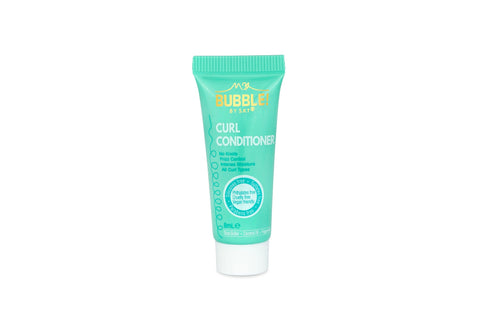 My Bubble! MINI Curl Conditioner 8ml (single use)
Silicones free, Sulfates free,  Parabens free, Phthalates free, Cruelty free, Vegan friendly.
- No Knots
- Frizz Control
- Intense Moisture
- All Curl Types
A lightweight hair conditioner that helps to restore and smooth dry and damaged hair cuticles without weighting your hair down.
Ensures your curly hair have no more knots, make your curly hair soft, shining and easy to style after wash.
Instantly softens and detangles dry, frizzy hair while infusing your curls and coils with intense moisture.
Helps to provide nourishing hydration for curly hair.
Specially formulated to hydrate, without weighing curls down. Our special blend of Castor, Coconut, Shea Butter, Argan oils penetrate the hair shaft and naturally moisturise hair. A special blend of Turmeric, Hibiscus and Aloe Vera, naturally hydrates curls. Detangles, adds shine and reduces frizz
Fresh minty and coconut fragrance – it smells delicious!
8ml - single use

---