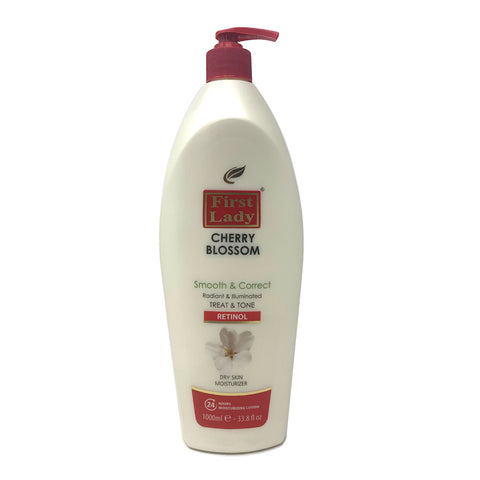 First Lady Cherry Blossom Retinol Treat & Tone Moisturizing Body Lotion
First Lady Cherry Blossom Dry Skin Moisturiser Body Lotion helps to reveal deeply illuminated, visibly softer skin. Our unique formula contains retinol which smoothes fine lines and corrects pigmentation.

Best for: Tired & Aged Dry skin
Treats skin with its moisture correction formula.
Contains Retinol, which reduces fine lines and wrinkles. It also increases skin cell turnover and stimulates collagen synthesis.
Tones and correct pigmentation 
This unique formula stimulates the production of new blood vessels in the skin.
Visibly improves skin's elasticity.
Absorbs quickly and locks in moisture up to 24 hours.
1000ml
---