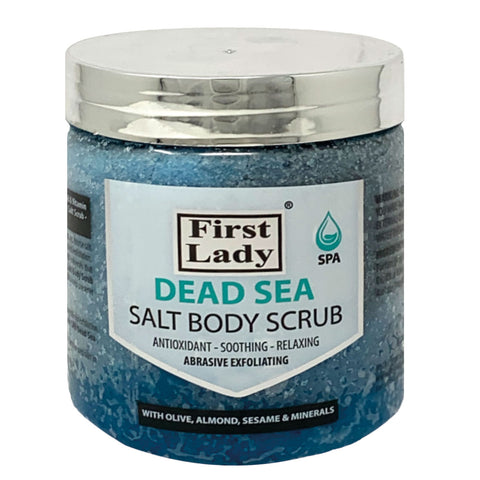 First Lady Spa Dead Sea Salt Abrasive Exfoliating Body Scrub
First Lady SPA Dead Sea Exfoliating Body Scrub is made with natural Dead Sea Salt. Its course salt crystals acts as a pore minimiser to help restore smooth soft skin. The salt grains provide mineral rich exfoliation. 
First Lady SPA Dead Sea Exfoliating Salt Body Scrub is harmoniously blended with minerals that detoxify skin by balancing pH levels in the body.
This scrub contains ultra moisturising Sunflower Oil, Almond Oil. Sesame Seed Oil to help preserve your skins natural moisture and leaves skin velvety soft and lightly scented.
Abrasive exfoliating 
Soothing 
Softening
Mineral salt scrub
Body
(scrub colour may vary) Please note item is sold by Weight (e), the container is not full to the top
500ml
---