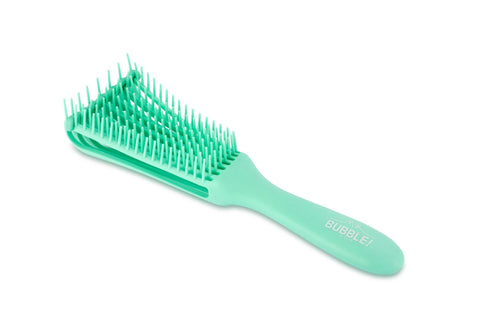 My Bubble! Adjustable Octopus Detangling Brush
Great for Detangling Curls with Ease! Flexible comb brush that glides with your curls as you detangle. It also has a curved shape that's super comfortable to use on your scalp.
Great for Detangling Curls with Ease!
For All Hair Textures
Pro Tip: Use in the shower to detangle with My Bubble Conditioner in your hair
Curved comb shape for comfortable use on your scalp
Can be used to give a scalp massage
Comes with Control Bar that can be used optional to lock comb teeth in place
Eight rows of comb teeth
Comfortable non-slip rubber handle
White My Bubble! logo
Rubber brush with plastic comb teeth
9 3/4″ length, 2 1/8″ width, 3″ control bar
Recommended use on wet hair only!
---