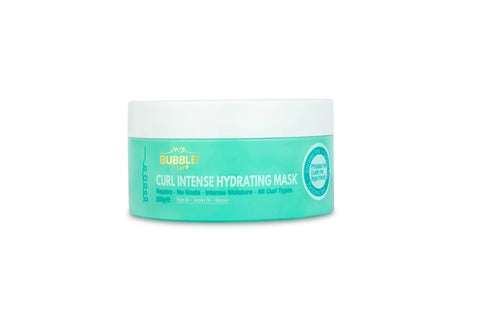 My Bubble! Curl Intense Hydrating Mask
Silicones free, Sulfates free,  Parabens free, Phthalates free, Cruelty free, Vegan friendly.
 - Repairs
- No Knots
- Intense Moisture
- All Curl Types
Instantly changes the texture of your hair, leaving it soft, silky, and easier to manage.
Repairs, restores, and strengthens weak, damagedhair. To restore a healthy hair appearance.
Deeply conditions, detangles, hydrates, and revives dull and dry Hair.Improving its manageability and elasticity and giving it a beautiful Shine.
Its super hydrating to really nurture those curls and get them back to their former bouncing glory. A special blend of Castor, Coconut, Argan Oils that naturally moisturise hair and scalp. Added Hibiscus strengthens hair and soothes the scalp while encouraging healthy hair growth. Turmeric acts as an antioxidant, minimising damage from environmental factors.
Fresh minty and coconut fragrance - it smells delicious!
200g
---