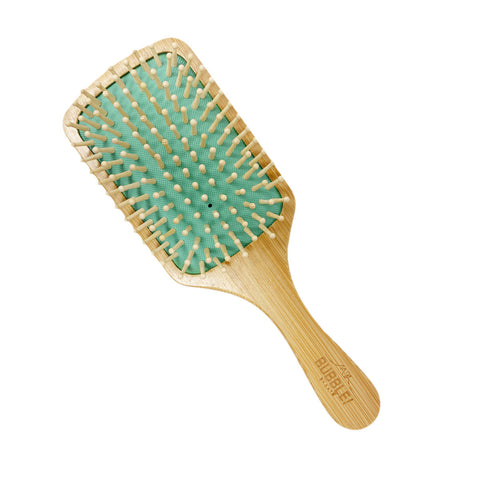 My Bubble! Large Square Paddle Bamboo Brush
Natural Bamboo Wooden Hair Brush
Material: 100% Bamboo & pins are also made from 100% bamboo
Engraved with : My Bubble! Logo
Top Quality (Built to last)
Size: Approx. 24.5 * 8 * 3cm (L*W*H)
The benefits of bamboo include: 

Environmentally friendly - 100% bamboo hairbrush made with natural rubber and sustainable bamboo. Fully biodegradable - even the pins are 100% bamboo! It is a better option for healthier, shinier hair.

Massage made by rounded ends wooden bristles stimulates blood flow to the scalp and boosts hair growth. Besides, with more blood hair follicles get more nutrition. 
Sharp tips and edges of plastic bristles can pull and tear hair strands, while the delicately polished bamboo bristles on wooden hair brush glide through your hair like breeze.
Plastic hair brushes produce static that electrifies your hair, and you have these hateful fly-aways that can't be smoothed down, frizz and constant tangling. With our wood hairbrush, your hair lies still.
Our bamboo brush can be used on wet or dry hair.
HOW TO CARE FOR YOUR BAMBOO BRUSH:
Remove hair from the brush

Fill a bowl with warm water and shampoo (or a gentle soap)

Dip it in the bowl and remove dirt (using a bamboo toothbrush works great)
Rinse your brush with cold water
Face it bristles down and allow to fully airdry
---