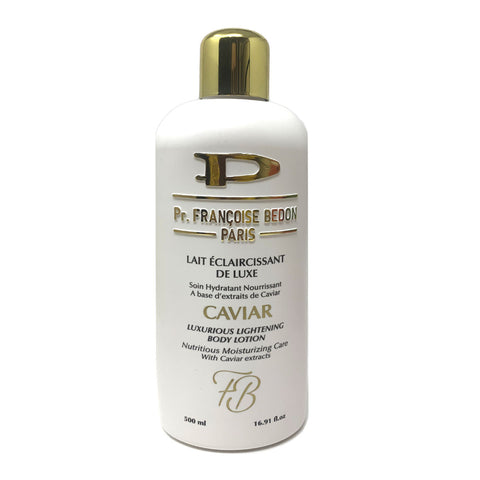 Pr. Francoise Bedon Nutritious Lightening Caviar Lotion
Pr. Francoise Bedon Lait Eclaircissant De Luxe Caviar is a luxurious lightening body lotion which contains caviar extracts. This high-quality body lotion is concentrated and enriched with amino acids, oil, soluble vitamins, oligo elements and fatty acids. The formula treats and helps to eliminate scars and marks that may be caused by pregnancy, age or sun exposure.
This caviar body lotion cares, purifies, nourishes and hydrates your epidermis, gives skin its softness and elasticity. The caviar used in this lotion has been collected in the Mediterranean banks.
This lotion has been specially designed for black, dark and mixed-race skins. It is performed by 100% natural plant content.
This lotion may contain granules residue / particles  - Please note these are authentic Pr. Francoise Bedon products, they have been supplied to us direct from Pr. Francoise Bedon France.
500ml
---