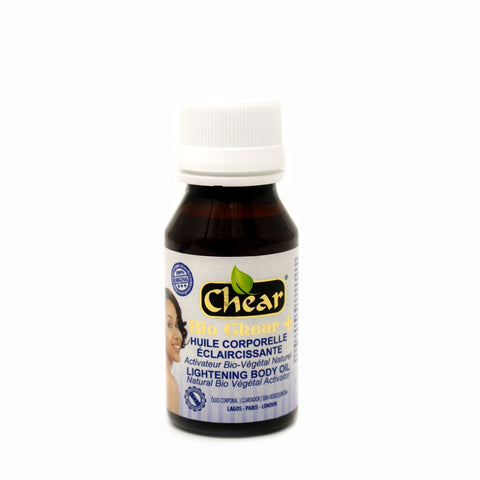 Chear Bio Chear + Lightening Body Oil
The lightening body oil Chear Bio Chear + without hydroquinone stimulates the lightening process in a natural way, ensures complete elimination of cutaneous defects and makes your complexion clear and even, with no mess. Its natural Bio-Vegetal Activator makes the skin bright, lighter and healthy.
60ml
This product is in compliance with EU & U.K regulations. 
---
Frequently Bought Together
Chear Bio Chear + Lightening Body Cream (Jar)

Chear Bio Chear + Lightening Body Lotion MILKY LIQUID FORMULA

Chear Bio Chear + Lightening Fade Face & Body Gel (Tube)

Chear Bio Chear + Lightening Body Oil

Chear Bio Chear + Black Spot Corrector (B.S.C) Lightening Cream 30ml

Chear Bio Chear + Lightening & Antioxidant Self-Foaming Face Wash

Chear Bio Chear + Lightening Exfoliating Soap

Chear Bio Chear + Lightening Shower Gel

Chear Bio Chear + Lightening Body Cream (Tube)

Chear Bio Chear + Skin Lightening Glycerin