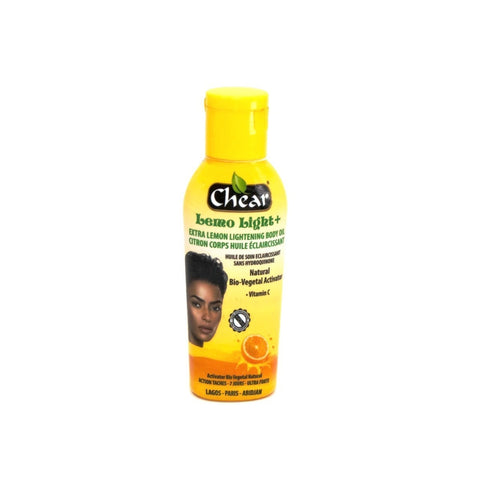 Chear Lemo Light+ Lightening Oil
Chear Lemo Light + Lemon Lightening Body Oil is rich in extracts of lemon, which lightens skin. It contains Bearberry Extracts which when applied daily all over the body makes your skin silky soft. It moisturizes, nourishes & gives glow to your skin.
60ml
This product is in compliance with EU & U.K regulations. 
---
Frequently Bought Together
Chear Lemo Light+ Lightening Exfoliating Soap

Chear Lemo Light + Black Spot Corrector (B.S.C) Lemon Lightening Cream

Chear Lemo Light+ Lemon Lightening Shower Gel

Chear Lemo Light+ Extra Lemon Lightening Cream (tube)

Chear Lemo Light+ Lightening Cream (jar)

Chear Lemo Light+ Lightening Oil

Chear Lemo Light+ Lightening Lotion with vitamin c 500ml NEW FORMULA

Chear Lemo Light + Lemon Lightening Skin Glycerin