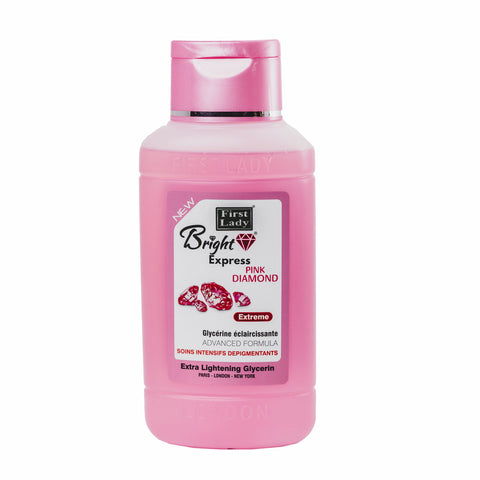 FIRST LADY BRIGHT EXPRESS PINK DIAMOND EXTRA LIGHTENING GLYCERIN
Fade hype-pigmentation with First Lady Bright Express Pink Diamond Lightening Glycerine, developed with natural plant based whitening extracts. This formula adds moisture to the skin, rejuvenating texture for healthier-looking appearance. 
Infused with our exclusive bright express formula, the lightening glycerine helps fade discolouration such as liver spots, scars & marks creating a more brighter and youthful complexion. 
600ml
This product is in compliance with EU & U.K regulations.  
---
Frequently Bought Together
FIRST LADY BRIGHT EXPRESS PINK DIAMOND EXTRA LIGHTENING GLYCERIN

First Lady CHARCOAL Brightening Shower Cream

First Lady Bright Express Snail Slime with Vitamin C Soap

First Lady Bright Express Snail Slime with Vitamin C Extra Lightening Cream (tube)

First Lady Bright Express Black Castor with Lime Lightening Lotion