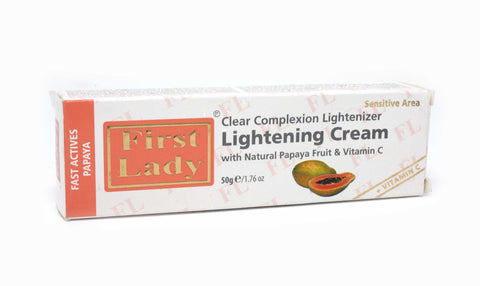 First Lady Fast Active Papaya Lightening Cream (Tube)
This lightening cream is specially formulated to restore and protect the skin. It contains a complex blend of active ingredients which make it highly effective and well accepted by all skin types. The formulation contains Papaya extract which boosts the lightening effect and helps reduce pigmentation disorders.The complexion becomes lighter and uniform. Can be used to lighten underarms and sensitive areas.  
This cream  also contains the following properties 
Helps skin maintain its natural moisture, resulting in smoother, stronger and more resilient skin
reduces irritation due to weather or lifestyle
stimulates cell metabolism
anti-ageing, wrinkles trend to decrease
. 50G.
---
Frequently Bought Together
First Lady Lightening & Exfoliating Shower Cream with PAPAYA & Goats Milk

First Lady Skin Lightening Papaya Extract Gel (jar)

First Lady Fast Active Papaya Lightening Cream (Tube)

First Lady Fast Actives Lightening Papaya Soap

First Lady Fast Actives Clear Complexion Lightening Glycerin with Papaya

First Lady Fast Actives Clear Complexion Lightening Face & Body PRO Serum with Papaya Fruit & Vitamin C (60ml)

First Lady Papaya Mango Sugar Scrub for Face, Body & Lips

First Lady Fast Actives Clear Complexion Lightening Body Milk with Papaya Fruit (500ml)

First Lady Fast Actives Clear Complexion Lightenizer Face Cleansing Fade Toner With Papaya