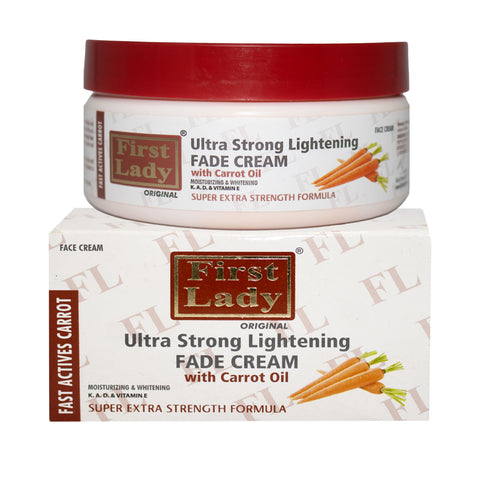 First Lady Fast Actives Ultra Strong Lightening Fade Cream with Carrot Oil (200ml Jar)
First Lady Ultra Strong Fade Cream is specially intended for facial hyper-pigmentation (dark spot) problems. This cream is rich in carrot oil which brightens and fades away facial blemishes and marks, and results in a purified, a clearer and smoother complexion.
Its high level of beta-carotene helps in repairing skin tissues and protects skin from harmful radiation from the sun.
Its natural whitening active ingredients are carefully selected for its high efficiency and safety. 
Recommendation: Follow up with SPF-50 sunblock during and after brightening treatment to maintain even skin.
200ml
---
Frequently Bought Together
First Lady Fast Actives Ultra Strong Carrot Lightening Fade Soap

First Lady Fast Actives Ultra Strong Lightening Face & Body PRO Serum With Carrot Extract (60ml)

First Lady Lightening & Exfoliating Shower Cream With CARROT

First Lady Fast Actives Ultra Strong Lightening Fade Body Milk With Carrot Oil (500ml)

First Lady Fast Actives Ultra Strong Lightening Fade Cream with Carrot Oil (200ml Jar)

First Lady Fast Actives Ultra Strong Lightening Fade Glycerin with Carrot

First Lady Fast Actives Ultra Strong Lightening Face Cleansing Fade Toner With Carrot