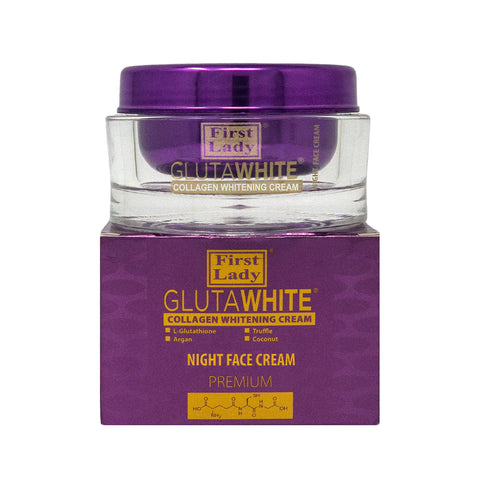 First Lady GlutaWhite Collagen Whitening NIGHT Face Cream with Glutathione & Shea Butter
First Lady Premium Glutawhite Collagen Whitening Night cream contains a variety of high quality luxurious ingredients such as: L-Glutathione, Collagen, Truffle, Argan & Coconut. All of which helps to improve the skin complexion, rapidly whitens & lightens skin tone.
This night cream with Shea Butter luxuriously absorbs very well resulting in a softer, smoother and healthier youthful glowing skin tone. After many years of research and trials we have finally developed the most luxurious, most effective and efficient skin whitening beauty milk


L-Glutathione is an antioxidant naturally found in human cells that neutralizes free radicals, boosts the immune system and detoxifies the body. It also rapidly causes skin lightening by converting melanin to a lighter color and deactivating the enzyme tyrosinase, which helps produce the pigment.
Contains Collagen, an anti ageing property, which help reduce and address fine lines and wrinkles and restores moisture to dry and dehydrated skin. Reduces the appearance of fine lines and wrinkles. Helps skin's natural elasticity and restores moisture to dry dehydrated skin. Defuses signs of aging, brightens & tones the skin.
Truffles are rich in amino acids which are known to aid collagen production giving firmer and smoother skin and diminishing the appearance of fine lines and wrinkles. They are a source of antioxidants which prevent damage from free radicals leaving skin looking visibly smoother with a radiant glow.
With added Argan Oil, this precious and rare oil repairs damaged skin & scars. Argan Oil is used as a moisturizer to hydrate and soften skin. With its high Vitamin E and fatty acid content it gives the skin a natural boost.
Coconut Oil has potential benefits for skin, including reducing inflammation, keeping skin moisturized and helping heal wounds. The medium-chain fatty acids found in coconut oil also possess antimicrobial properties that can help treat acne and protect the skin from harmful bacteria.
This night face cream also contains Shea Butter extract which adds extra moisture into the skin and helps keep skin soft and smooth.
100ml (e)

Recommendation : To prevent darkening follow up with SPF50 sunblock during and after brightening treatment to maintain even skin


Note : First Lady skin lightening products like other lightening products in the market require regular and consistent use. Please take into consideration that each individual skin is different and results may vary from one person to another.


Note: Some individuals may experience the skin temporary darkening before it gets lighter. This is due to the active lightening agents interacting with the skin causing the pigments to rapidly pull toward the skin surface, making the cells ready to shred. You will need to stay consistent with the treatment for the area to lighten and clear up.
WHEN USING THIS PRODUCT: AVOID UNNECESSARY SUN EXPOSURE AND USE A SUNSCREEN TO PREVENT DARKENING FROM REOCCURRING. TEST OVERNIGHT ON SMALL AREA BEHIND EAR. *YOU MAY INCUR A TINGLING SENSATION THIS IS DUE THE LIGHTENING INGREDIENTS ACTIVATING WITH THE SKIN.

WARNING: IF IRRITATION OCCURS DISCONTINUE USE AND IF YOU HAVE AN ALLERGIC REACTION IT IS RECOMMENDED THAT YOU SEEK MEDICAL ADVICE. FOR EXTERNAL USE. AVOID CONTACT WITH EYES. DO NOT USE ON CHILDREN.

PREGNANCY/BREASTFEEDING: IF PREGNANT OR BREASTFEEDING, ASK A HEALTH PROFESSIONAL BEFORE USE.
---
Frequently Bought Together
First Lady Premium Glutawhite Collagen Skin Whitening Body Beauty Lotion with L-Glutathione

First Lady Glutawhite ELIXIR Collagen Whitening Glutathione Body Oil (200ml)

First Lady Glutawhite ELIXIR Collagen Whitening Glutathione Face & Body Serum (60ml)

First Lady GlutaWhite Collagen Whitening NIGHT Face Cream with Glutathione & Shea Butter

First Lady GlutaWhite Collagen Whitening DAY Face Cream with Glutathione & SPF 15 creme de jour