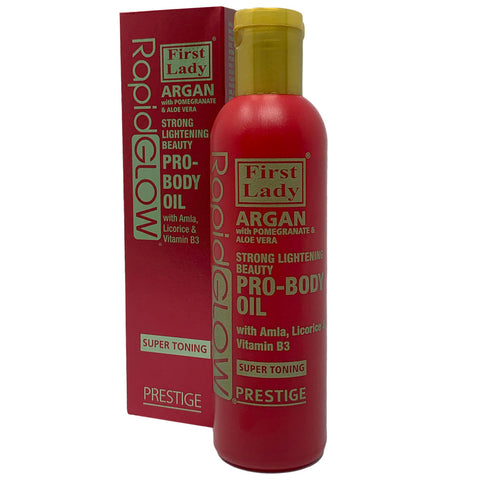 First Lady Rapid Glow Argan with Pomegranate & Aloe Vera Strong Lightening Beauty PRO Body Oil (200ml)
First Lady Rapid Glow Argan with Pomegranate & Aloe Vera Strong Lightening Beauty PRO Body Oil with Amla, Licorice & Vitamin B3 dramatically lightens pigmentation, effectively moisturize and even out skin tone. Skin looks more luminous, radiant and youthful.
Combining the power of radiance-boosting natural Argan, Pomegranate, Aloe Vera, Amla, Licorice, Vitamin B3 and a high concentration of our key prestigious lightening ingredients. It will help to brighten and give a luminous glow.


Pomegranate fruit is rich in antioxidant vitamins like A, C, and E, which help in exfoliating the skin, rejuvenating its cells, and lightening its tone. As a whole, the skin looks brighter and whiter naturally. It can offer excellent anti-aging benefits through increased cell regeneration and rejuvenation of the skin.
Our First Lady Rapid Glow Beauty PRO Lightening Oil contains Niacinamide which treats hyperpigmentation, helps reduce fine lines, wrinkles, blotchiness on skin and keeps skin firm.
With added Argan extract, this precious and rare oil repairs damaged skin & scars. Argan is used as a moisturizer to hydrate and soften skin. With its high Vitamin E and fatty acid content it gives the skin a natural boost.
Aloe Vera contains cooling properties that can soothe skin and replenish minerals and vitamins. Aloe Vera helps intensely moisturise skin without leaving that greasy feeling behind. It locks in moisture and leaves skin smooth and soft. Aloe Vera also has antibacterial properties, slows down ageing, great for sensitive skin.
The antioxidants and vitamin C in gooseberry (Amla), help to brighten your skin. This fruit also helps to tone and tighten your skin, and make it firm and soft.
Skin lightening compound found in Licorice root called liquiritin can help lighten these areas. If you use licorice root for skin care needs, then these unique compounds will slow down production of darker pigments. In turn, this will lessen hyper-pigmentation.
Pro Vitamin B5 helps to keep skin soft, smooth, and healthy. Deeply hydrating, it helps to keep skin quenched by absorbing moisture from the air.
- This oil can be used on the  body.

This product contains active ingredients you may feel a tingling/mild itchy sensation this is due to the active ingredients reacting.

200ml
---
Frequently Bought Together
First Lady Rapid Glow Argan with Pomegranate & Aloe Vera Strong Lightening Body Beauty Lotion Milk

First Lady Rapid Glow Argan with Pomegranate & Aloe Vera Strong Lightening Beauty PRO Body Oil (200ml)

First Lady Rapid Glow Argan with Pomegranate & Aloe Vera Strong Lightening Beauty Face Cream

First Lady Rapid Glow Argan with Pomegranate & Aloe Vera Strong Lightening Beauty PRO Booster Serum (60ml)