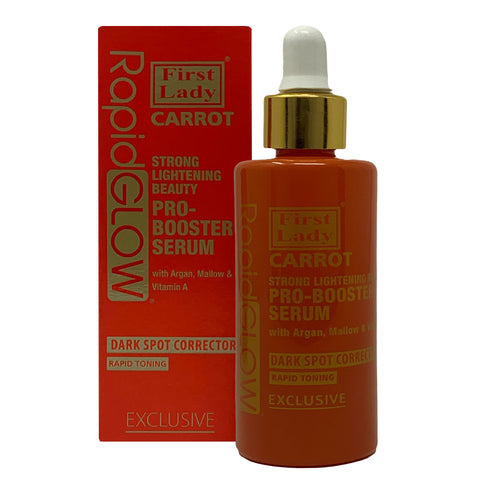 First Lady Rapid Glow Carrot Strong Lightening Beauty PRO Booster Serum (60ml)
First Lady Rapid Glow Carrot Strong Lightening Beauty PRO Booster Serum with Argan, Mallow & Vitamin A is intensely concentrated, especially intended for hyper-pigmentation problems of black and mixed skin.
The natural active ingredients are carefully selected for its high efficiency and rapid lightening. Combining Carrot, Argan, Mallow, Vitamin A and our exclusive concentrated whitening ingredient. It gives a rapid glow to the skin and limits the appearance of blemishes and helps to lighten dark areas.


Our First Lady Rapid Glow

Carrot Strong Lightening Beauty PRO Booster Serum

contains a high concentration of Carrot which increases beauty by bringing out lighter skin. The Carotene and Vitamin C present in it helps give you flawless skin.
Our First Lady Rapid Glow Beauty PRO Booster Serum contains Niacinamide which treats hyperpigmentation, helps reduce fine lines, wrinkles, blotchiness on skin and keeps skin firm.
With added Argan extract, this precious and rare oil repairs damaged skin & scars. Argan Oil is used as a moisturizer to hydrate and soften skin. With its high Vitamin E and fatty acid content it gives the skin a natural boost.
Vitamin A helps to speed up healing, prevent breakouts and support the skin's immune system and it promotes natural moisturising - which means it helps to hydrate the skin effectively, giving it a radiant glow. It assists in promoting and maintaining a healthy dermis and epidermis; the top two layers of your skin.
Marshmallow root extract is an anti-irritant and is tolerable by those with allergies and hypersensitive skin. It is known to provide relief from itching, swelling, redness, and chaffing due to its emollient and soothing properties. The roots and stem of the marshmallow plant secrete mucilage, which helps soften skin, lowers swelling, and kills bacteria. It's considered particularly beneficial in treating sunburns and dry skin.
- This serum can be used on Face, Neck or Body.

This product contains active ingredients you may feel a tingling/mild itchy sensation this is due to the active ingredients reacting.

60ml
---
Frequently Bought Together
First Lady Rapid Glow Carrot Strong Lightening Beauty Body Milk Lotion

First Lady Rapid Glow Carrot Strong Lightening Beauty PRO Body Oil (200ml)

First Lady Rapid Glow Carrot Strong Lightening Beauty PRO Booster Serum (60ml)

First Lady Rapid Glow Carrot Strong Lightening Beauty Face Cream