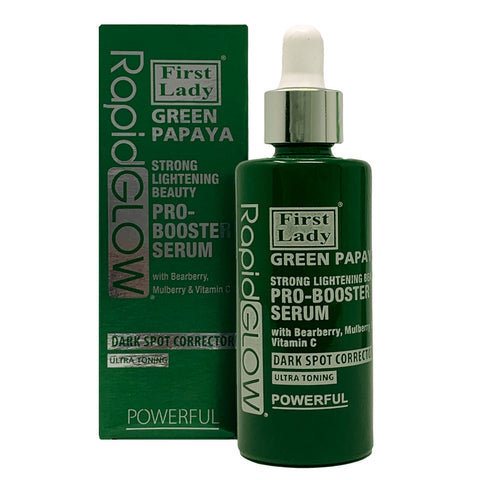 First Lady Rapid Glow Green Papaya Strong Lightening Beauty PRO Booster Serum (60ml)
First Lady Rapid Glow Green Papaya Strong Lightening Beauty PRO Booster Serum with Bearberry, Mulberry & Vitamin C is powerful at lightening skin tone. It evens, and improves the appearance of dark spots, age spots, freckles, post acne discolouration, and helps create a uniform, luminous complexion.
Our lightening serum contains a high concentration of our key powerful brightening ingredient, it targets areas of hyper-pigmentation and helps illuminate dry, mature complexion.


Our First Lady Rapid Glow Beauty Serum contains a high concentration of Green Papaya a potent skin lightening action owing to its exfoliating action and direct skin lightening effect of enzyme Papain. Papain enzyme restores an even toned skin complexion. Green Papaya contain antioxidants like beta-carotene that prevents free radical damage and delays the ageing process.
Our First Lady Rapid Glow Beauty PRO Booster Serum contains Niacinamide which treats hyperpigmentation, helps reduce fine lines, wrinkles, blotchiness on skin and keeps skin firm.
We have added Bearberry extract in our serum which is a natural skin lightening ingredient, which contains arbutin, a natural skin lightener and brightener. It stops melanin production, and lightens and brightens your skin tone while also correcting hyper-pigmentation problems like age spots, freckles, melasma, and acne scars. Since it is completely natural it has no side effects. Another benefit of Bearberry extract is it contains sun protection filters that can reduce the effects of sun exposure helping to slow the effects of aging.
Mulberry extract has also been added to our oil, which is another all-natural choice that will deliver results with consistent use. It will get you a lighter skin tone over time. Cosmetologists also recommend it for effective skin lightening as it lowers melanin production.
Vitamin C has many antioxidant and antibacterial properties that can detoxify the skin by removing radicals that cause skin pigmentation. Vitamin C exfoliates the skin by removing dead skin cells and regenerates skin cells. This can repair damaged skin. Vitamin C also hinders the production of tyrosinase enzyme which thereby reduces melanin production, and can also be used to treat suntan, sunburns.
- This serum can be used on Face, Neck or Body.

This product contains active ingredients you may feel a tingling/mild itchy sensation this is due to the active ingredients reacting.

60ml
---
Frequently Bought Together
First Lady Rapid Glow Green Papaya Strong Lightening Body Beauty Milk Lotion

First Lady Rapid Glow Green Papaya Strong Lightening Beauty Face Cream

First Lady Rapid Glow Green Papaya Strong Lightening Beauty PRO Body Oil (200ml)

First Lady Rapid Glow Green Papaya Strong Lightening Beauty PRO Booster Serum (60ml)