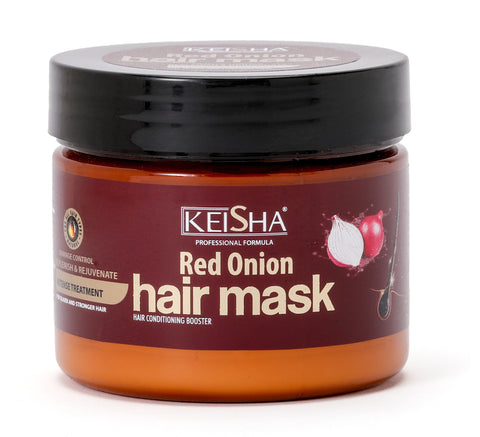 KEISHA Professional Red Onion Hair Mask + Free Application Brush #42
KEISHA Professional Red Onion Hair Mask is free from Parabens, Sulphate, Silicone, Mineral Oil, Synthetic Fragrance and is completely safe to use. *PRODUCT DOES NOT SMELL OF ONION.

This mask is concentrated and delivers an intense treatment resulting in soft, stronger, deeply conditioned, frizz-free lustrous hair. It restores strength and resilience to chemically processed, brittle or damaged hair.
Prevent hair fall
Repairs and strengthens
Safe for color treated hair
Improves health of the scalp
Can be used as a hot treatment
Suitable for all hair types and textures
Our mask is formulated with protein and natural ingredients: 
-  Red Onion is a natural source of quercetin, a powerful anti-oxidant that protects the hair and helps fight infections on the scalp. It also strengthens hair from its roots while nourishing and improving texture. It provides hair with a shine, and helps with hair loss.

-  Shea Butter supports hair's elasticity and reduce breakage, leaving hair soft, manageable and shiny.

-  Coconut Milk adds volume to your hair, makes it less greasy and promotes longer, thicker hair.

-  Olive Oil add softness and strengthen hair by penetrating the hair shaft and preserving moisture.

-  Argan Oil is rich in vitamin E, helps prevent dryness and helps reduce frizz and boost shine.

-  Avocado Oil moisturizes, repairs, and strengthens hair.

- Carrot Oil conditions hair and improve its texture, making it shinier and smoother.

-  Wheat Protein provides lubricity to help protect hair from styling damage while giving the hair a glossy, shiny appearance.

-  Grape Seed Oil adds moisture, strength, and shine.

-  Neem promotes thicker, stronger, and more luxurious hair growth.

-  Pro-Vitamin B5 (Panthenol), binds hair follicles, coats and seals in moisture which is great for dry hair or to prevent dry hair / scalp. It adds shine, softness and pliability without greasiness.

*WITH THIS RED ONION HAIR MASK YOU GET 1 X FREE APPLICATION BRUSH #42
200ml
---
Frequently Bought Together
KEISHA Professional Red Onion Hair Fertilizer + Free 2in1 Applicator Brush & Comb #43

KEISHA Professional Red Onion Hair Food

KEISHA Professional Red Onion Hair Oil + Free Detangling Brush & Comb #65

KEISHA Professional Red Onion Oil Hair Care KIT (6)

KEISHA Professional Red Onion Hair Mask + Free Application Brush #42

KEISHA Professional Red Onion Hair Shampoo + Free Peach Hair Drying Turban Cap #12049

KEISHA Professional Red Onion Hair Conditioner