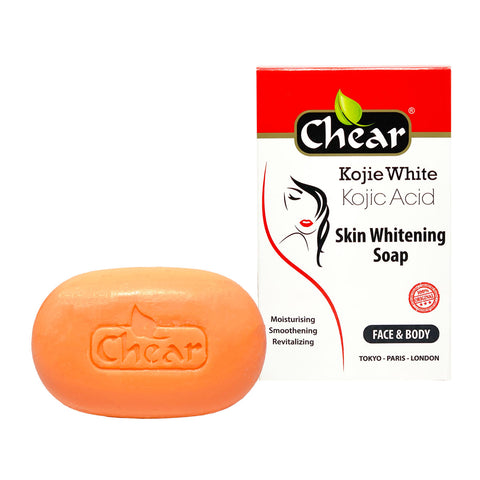 Chear Kojie White - Kojic Acid Skin Whitening Face & Body Washing Soap Bar
Chear Kojie White Soap contains high grade all natural Kojic Acid. This soap provides multiple benefits; gives you a brighter but natural skin tone rather than a "bleached" complexion. Deeply cleanses your skin to unclog pores, eliminate blackheads and whiteheads, and reduce the frequency of breakouts. It increases Cell turnover and helps eliminate accumulated dead skin cells on the epidermis.
The Lightening soap helps: 
Even out your skin tone and fades scars.
Lighten dark areas, such as underarms, knees, elbows, inner thighs and buttock.
Treats skin ailment like blemishes, freckles, hyper-pigmentation and melasma caused as a result of sun damage.
Fights signs of aging such as fine lines wrinkles and dull skin.
Helps protect your skin from bacterial and fungal infections.
Kojic Acid is known for its whitening effects and antioxidant properties
Chear Kojie White Soap is the perfect to use along with Chear Kojie White Lotion and Chear kojie White Cream
150g
DIRECTIONS: Always build up a good lather. Use daily as a facial, hand & body bath soap. Use once/twice daily to whiten areas of discolored dull skin tone.

RECOMMENDATION: After using this soap always apply SPF50 Sunblock to avoid darkening. If used in combination with CHEAR KOJIE WHITE CREAM, LOTION OR SERUM amazing results can be obtained.

*Tingling sensations are normal, since the acid is working to lighten your skin. You can leave the soap lather on for 2-5 minutes, but if you feel any burning, rinse the product off immediately.

WARNING: Do not use this product if you have eczema, contact dermatitis, psoriasis or other particular skin condition. If irritation occurs discontinue use and if you have an allergic reaction it is recommended that you seek medical advice. For external use. Avoid contact with eyes, mucous membranes and open wounds. Do not use on children under 12.
---