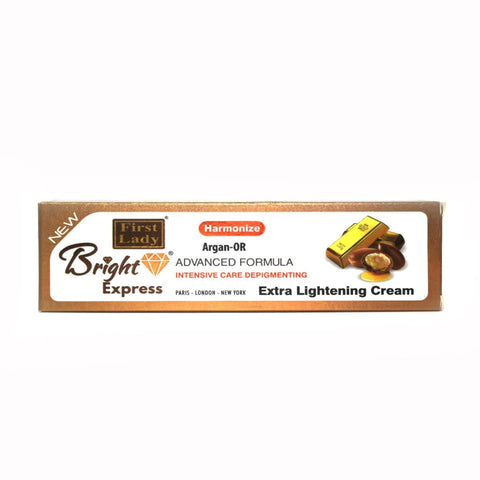 First Lady Bright Express Argan - OR Extra Lightening Cream (tube)
First Lady Bright Express Argan – Or Extra Lightening Cream tube contains high quality active ingredients for an intensive de-pigmenting care.
Lightening agents – these are all-natural agents from fruit acids that naturally clarifies the skin and evens the skin tone.
OR- Reveals, removes imperfections, unifies the skin complexion, revitalises and harmonizes the skin through its antioxidant effects.
Argan Oil – nourishes, repairs damaged skin & scars, moisturises, gives skin a natural boost, hydrates and softens skin. High in Vitamin E and Fatty Acid content.
Recommendation: Follow up with SPF-50 sunblock during and after brightening treatment to maintain even skin.
50g
---
Frequently Bought Together
FIRST LADY BRIGHT EXPRESS PINK DIAMOND EXTRA LIGHTENING GLYCERIN

First Lady Herbal ARGAN Hair Oil

First Lady Bright Express Argan - OR Extra Lightening Cream (tube)

First Lady Bright Express Argan - OR Extra Lightening Face & Body Cream Jar

First Lady Bright Express Argan - OR Lightening Soap

First Lady Bright Express Argan - OR Lightening Lotion