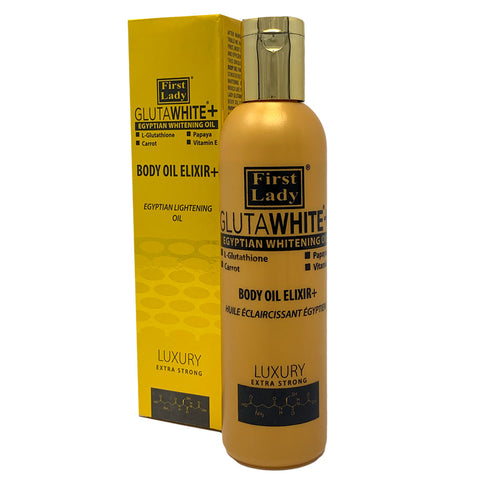 First Lady Glutawhite+ Egyptian ELIXIR Whitening Body Oil with Glutathione (200ml)
First Lady Glutawhite+ Egyptian Whitening Body Oil contains variety of high quality luxurious ingredients such as: Glutathione, Papaya, Carrot, Vitamin E & Goats Milk. All of which rapidly whitens dark skin pigmentation, freckles and age spots. After years of research we have developed the most luxurious, most effective and efficient skin whitening beauty oil.
Egyptian milk was originally used by cleopatra, who considered it to be her biggest whitening beauty secret. Now we would like to share this secret.

EXTRA STRONG - Our most advanced & strongest formula ever!

L-Glutathione is an antioxidant naturally found in human cells that neutralizes free radicals, boosts the immune system and detoxifies the body. It also rapidly causes skin lightening by converting melanin to a lighter colour and deactivating the enzyme tyrosinase, which helps produce the pigment.

Egyptian Goat Milk contains precious skin minerals like selenium and is loaded with vitamins, particularly vitamin A, the most important vitamin for the skin. As with other milks, goat's milk contains lactic acid, which is an alpha hydroxy acid (AHA). It assists to gently slough off dead skin cells and helps to hydrate and brighten the skin.

This luxurious oil is rich in Carrot, which is beneficial in lightening the skin tone and to even patchy blemished skin. Carrot extracts naturally reduces melanin. Its high level of beta carotene helps repair skin tissues and protects the skin from harmful radiation from the sun.

This lotion contains Papaya a potent skin lightening action owing to its exfoliating action and direct skin lightening effect of enzyme Papain. Papain enzyme restores an even toned skin complexion. Papaya contain antioxidants like beta-carotene that prevents free radical damage and delays the ageing process.

Dark patches on your skin can be caused by too much pigment (melanin), which is triggered by hormones or other causes. Called melasma, this condition is treatable through the use of topical Vitamin E.

- This oil can be used for body.

Recommendation :  To prevent darkening follow up with SPF50 sunblock during and after brightening treatment to maintain even skin

200ml
Note : First Lady skin lightening products like other lightening products in the market require regular and consistent use. Please take into consideration that each individual skin is different and results may vary from one person to another.
Note: Some individuals may experience the skin temporary darkening before it gets lighter. This is due to the active lightening agents interacting with the skin causing the pigments to rapidly pull toward the skin surface, making the cells ready to shred. You will need to stay consistent with the treatment for the area to lighten and clear up. 
WHEN USING THIS PRODUCT: AVOID UNNECESSARY SUN EXPOSURE AND USE A SUNSCREEN TO PREVENT DARKENING FROM REOCCURRING. TEST OVERNIGHT ON INSIDE OF ELBOW BEFORE USE. *YOU MAY INCUR A TINGLING SENSATION THIS IS DUE THE LIGHTENING INGREDIENTS ACTIVATING WITH THE SKIN.

WARNING: IF IRRITATION OCCURS DISCONTINUE USE AND IF YOU HAVE AN ALLERGIC REACTION IT IS RECOMMENDED THAT YOU SEEK MEDICAL ADVICE. FOR EXTERNAL USE. AVOID CONTACT WITH EYES. DO NOT USE ON CHILDREN.

PREGNANCY/BREASTFEEDING: IF PREGNANT OR BREASTFEEDING, ASK A HEALTH PROFESSIONAL BEFORE USE.
---
Frequently Bought Together
First Lady Luxury Glutawhite+ Egyptian Whitening Beauty Lotion

First Lady Premium Glutawhite Collagen Skin Whitening Body Beauty Lotion with L-Glutathione

First Lady Glutawhite+ Egyptian Whitening Exfoliating Skin Beauty Soap

First Lady Glutawhite+ Egyptian ELIXIR Whitening Body Oil with Glutathione (200ml)

First Lady Glutawhite+ Egyptian ELIXIR + Glutathione Whitening Face & Body Serum (60ml)

First Lady GlutaWhite+ Egyptian Whitening DAY Face Cream with SPF 15 creme de jour

First Lady GlutaWhite+ Egyptian Whitening NIGHT Face Cream with Goats Milk

First Lady Luxury Glutawhite+ Egyptian Whitening Glutathione Beauty SET (6 items)

First Lady Glutawhite ELIXIR Collagen Whitening Glutathione Body Oil (200ml)

First Lady Glutawhite ELIXIR Collagen Whitening Glutathione Face & Body Serum (60ml)