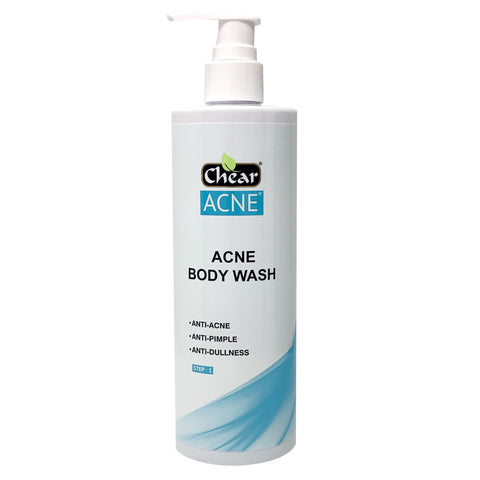 Chear Acne Cleansing Body Wash 400ml
Say goodbye to body breakouts with the CHEAR ACNE BODY WASH. A gentle, yet effective body cleanser shower gel that works to decongest clogged pores of bacteria and impurities that can lead to excess sebum production and breakouts.
This acne treatment body wash combines acne-fighting Salicylic Acid and Lactic Acid with purifying Aloe Vera, Witch Hazel natural extracts to wash away excess oil and rejuvenate your skin.
Designed for daily use, this formula won't over dry your skin and is specifically formulated to treat and eliminate back and body acne. With regular use, you can achieve clear, smooth skin from head to toe.
Anti Acne 
Anti Pimple
Anti Dullness
Recommendation: You can follow with Chear Acne Body Spray, Cream or Gel to obtain the best anti-acne result.

For mild acne.
Directions for use: Use twice a day. Apply to wet body areas or with a sponge and work into a lather then rinse thoroughly avoiding eye areas.

Warnings: Keep out of reach of children. If irritation occurs discontinue use and if you have an allergic reaction it is recommended that you seek medical advice, For external use only. Avoid contact with eyes and mouth. Wash your eyes with clean water thoroughly in case of eye contact.

Patch testing prior to use is advised.




Do not use if pregnant or breastfeeding.



400ml
---
Frequently Bought Together
Chear Acne Deep Pore Cleansing Toner

Chear Acne Target Cream

Chear Acne Target Gel

Chear Acne Sulfur Soap for face & body

Chear Acne Target Serum for face & body

Chear Acne Target Gel Loose (NO BOX)

Chear Acne Face Exfoliating Cleansing Pads

Chear Acne Target Body Spray

Chear Acne Blemish Control Face Wash Gel (200g)

Chear Acne Cleansing Body Wash 400ml