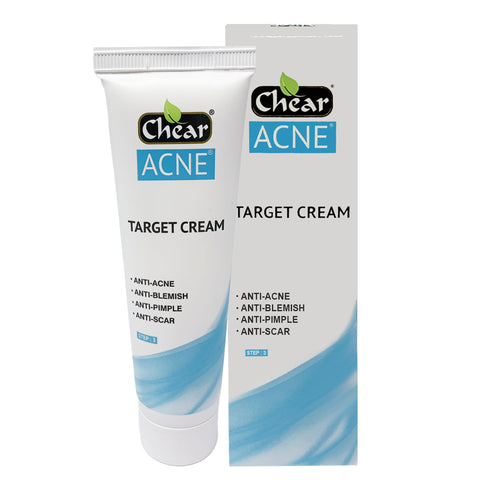 Chear Acne Target Cream
Chear Acne Target Cream absorbs excess oil while releasing glycerine to hydrate the skin and helps prevent acne, blemishes and pimples. This cream is an effective leave on gel for mild acne on the face, chest and back areas.

Chear Acne's spot fighting ingredients work with the skin to open up blocked pores. It helps to achieve acne free skin by killing spot causing bacteria and helps visibly reduces spot size and redness. 
Anti Acne 
Anti Blemish 
Anti Pimple
Anti Scar
50g 
---
Frequently Bought Together
Chear Acne Deep Pore Cleansing Toner

Chear Acne Target Cream

Chear Acne Target Gel

Chear Acne Sulfur Soap for face & body

Chear Acne Target Serum for face & body

Chear Acne Target Gel Loose (NO BOX)

Chear Acne Face Exfoliating Cleansing Pads

Chear Acne Target Body Spray

Chear Acne Blemish Control Face Wash Gel (200g)

Chear Acne Cleansing Body Wash 400ml