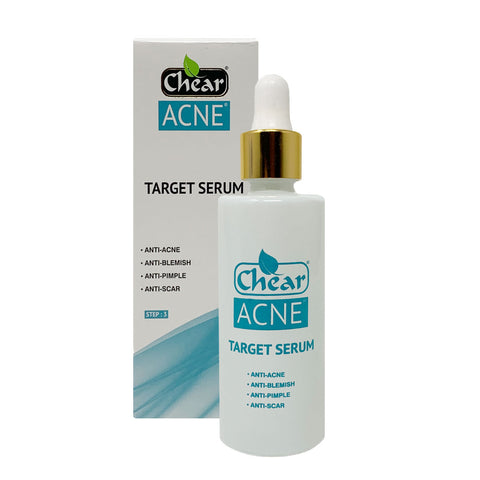 Chear Acne Target Serum for face & body
Chear Acne Target Face & Body Serum effortlessly eliminates acne to reveal clearer, smoother skin while clearing clogged pores.

Its lightweight formula includes the heavy-hitting active ingredient Salicylic Acid that clears blemishes and prevents them from returning.

The formula also includes Neem, which fights acne causing bacteria, which also helps with the treatment and prevention of acne and soothes irritated skin.

Chear Acne serum contains Witch Hazel its astringent and pore tightening properties help fight inflammation and over production of oil associated with acne.
Anti Acne 
Anti Blemish 
Anti Pimple
Anti Scar
60ml
---
Frequently Bought Together
Chear Acne Deep Pore Cleansing Toner

Chear Acne Target Cream

Chear Acne Target Gel

Chear Acne Sulfur Soap for face & body

Chear Acne Target Serum for face & body

Chear Acne Target Gel Loose (NO BOX)

Chear Acne Face Exfoliating Cleansing Pads

Chear Acne Target Body Spray

Chear Acne Blemish Control Face Wash Gel (200g)

Chear Acne Cleansing Body Wash 400ml